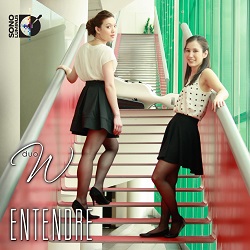 Visit the Winner's page 
Entendre Kodály | Handel-Halvorsen | Servais and Léonard | Ravel | Sousa-Dukov

duoW — Arianna Warsaw-Fan (violin) and Meta Weiss (cello)
℗ & © 2013 Sono Luminus
From Your Voice on nomination forms:
The young artists' performance of the classics is unique, inspiring, and magical.
– elbeshears (San Francisco, CA, USA)
Not only is the performance terrific--both violin and cello--but the group has extended itself in reaching beyond the usual repertoire. These are exciting players who are appealing to both traditional and newer audiences.
– A Fan (Grantham, NH, USA)