The Greats (Dec 19, 2016)

In memory of Karel Husa
(Aug 7, 1921 – Dec 14, 2016)

Pulitzer Prize winning composer and long-time faculty member of Cornell University and Ithaca College, Karel Husa passed away on Dec 14.

His cello concerto—premiered in 1989 by Lynn Harrell and the University of Southern California Symphony—won the 1993 Grawemeyer Award for Music Composition and was featured at a special Grawemeyer Award gala concert at Carnegie Hall in 2007 with Paul York as the soloist. The concerto was later recorded by Paul York with Kimcherie Lloyd conducting the University of Louisville Symphony Orchestra on a CD released by Ablaze Records.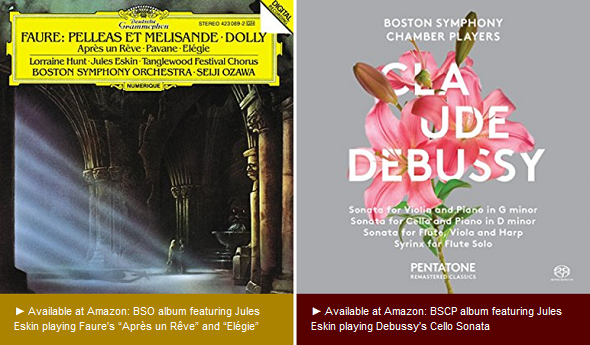 The Greats (Nov 18, 2016)
Jules Eskin tribute
(Oct 20, 1931 - Nov 15, 2016)
Jules Eskin, principal cellist of the Boston Symphony Orchestra for more than 50 years and a founding member of the Boston Symphony Chamber Players, passed away in Brookline, MA on Nov 15. During his tenure at BSO from 1964 until his death, he had led the cello section under five different music directors, appeared numerous times as soloist, and performed in many tours including the historic 1979 concerts in China under the then BSO music director Seiji Ozawa.
The Greats (Sep 26, 2016; edited Aug 18, 2018)

Happy birthday Aldo Parisot

To celebrate revered cello professor Aldo Parisot's birthday on Sep 30, let's watch him conduct the Yale Cellos for a special rendition of Schumann's "Träumerei" at Yale University President Peter Salovey's inauguration celebration concert on Oct 11, 2013.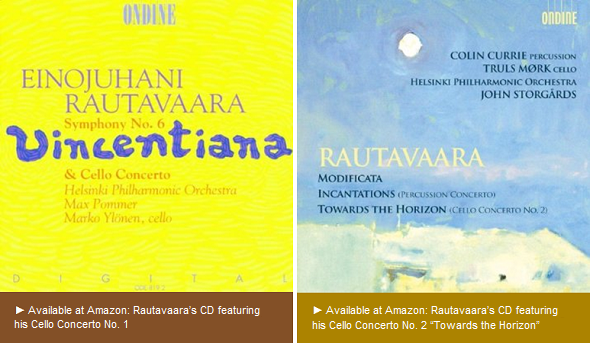 The Greats (Jul 29, 2016)
Einojuhani Rautavaara
(Oct 9, 1928 – Jul 27, 2016)
Eminent Finnish composer Einojuhani Rautavaara passed away in Helsinki on Jul 27. He enjoyed great international success and many of his works were commissioned by orchestras and presenters outside his native country. Of his twelve concertos, the first was written for cello in 1968 while the last was a cello concerto "Towards the Horizon" written for the Minnesota Orchestra in 2008–09 and dedicated to Truls Mørk. In addition, he has written a sonata for cello solo as well as two sonatas for cello and piano.
The Greats (Feb 15, 2016)

In memory of Steven Stucky
(Nov 7, 1949 – Feb 14, 2016)

Pulitzer Prize winner and long-time resident composer of the Los Angeles Philharmonic, Steven Stucky passed away yesterday in Ithaca, NY at the age of 66.

Among his numerous commissions from orchestras, performers and organizations in U.S. and abroad, he has written two works for the cello. His 26-minute "Voyages" for cello and wind orchestra was premiered by Lynden Cranham with Thomas C. Duffy conducting the Yale Band. His set of seven short variations "Dialoghi" is based on the first name of the dedicatee, cellist Elinor Frey, who has recorded it on her debut CD on Yarlung Records.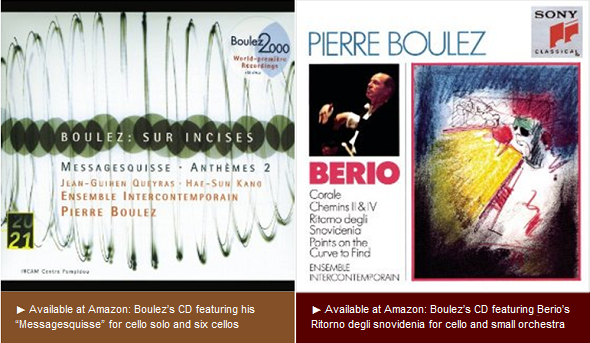 The Greats (Jan 7, 2016)
Tribute to Pierre Boulez
(Mar 26, 1925 – Jan 5, 2016)
A leading composer and conductor and a strong advocate of music of his contemporaries, Pierre Boulez passed away on Jan 5. He was former music director of the New York Philharmonic, the BBC Symphony Orchestra, as well as the founder of IRCAM (Institute for Research and Coordination in Acoustics/Music) and its Ensemble intercontemporain. In addition, he co-founded the Lucerne Festival Academy with Michael Haefliger. Boulez had recorded extensively for Deutsche Grammophon, Columbia (re-released by Sony), and Erato.
The Greats (Jan 4, 2016)
Henri Dutilleux's centenary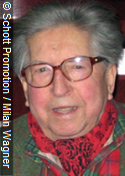 Jan 22 is the 100th anniversary of the birth of Henri Dutilleux. To celebrate his contribution to the cello repertoire, let's watch a special performance of his "Tout un monde lointain..." given by Henri Demarquette with Frédéric Chaslin conducting Nationaltheater-Orchesters Mannheim for Dutilleux's 90th birthday.