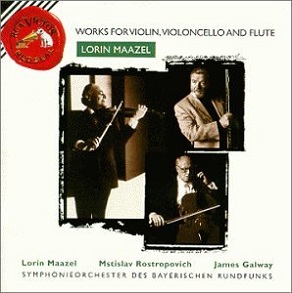 The Greats (Jul 15, 2014; updated Jul 17)
In memory of Lorin Maazel (Mar 6, 1930 – Jul 13, 2014)
Maestro Lorin Maazel, former music director of the New York Philharmonic, the Munich Philharmonic, the Cleveland Orchestra, the Pittsburgh Symphony, the Vienna State Opera and many others around the world, passed away Sunday morning, Jul 13. He had been at his Castleton Farms rehearsing and preparing for the 6th annual Castleton Festival where he was the founder and artistic director as well as composer in residence.

Later that day following the maestro's death, the concert at Castleton went on poignantly. Three of his orchestral works were featured, including "The Giving Tree" performed by Maria Tucci (narrator), Daniel Lelchuk (cello soloist) and Kensho Watanabe (conductor).

In 2005 at Avery Fisher Hall, for his 75th birthday celebration, the Maestro conducted the New York Philharmonic in a program entirely of his own compositions, showcasing guest soloist Han-Na Chang in both "The Giving Tree" and the more substantial "Music for Violoncello and Orchestra". The latter, a 30-minute work, was commissioned by Mstislav Rostropovich and has been released in a CD recording (shown on left).

The Castleton Festival is Maestro Maazel's legacy; he described working with young musicians as "more than a labor of love - a labor of joy". Last night (Jul 16), his family, staff and artists at the Festival hosted a memorial in which Alisa Weilerstein opened the program with the Sarabande from Bach's Cello Suite No. 3. The next symphonic concert is this Sat, Jul 19 featuring Weilerstein and returning Castleton conductor Rafael Payare in Tchaikovsky's Rococo Variations.