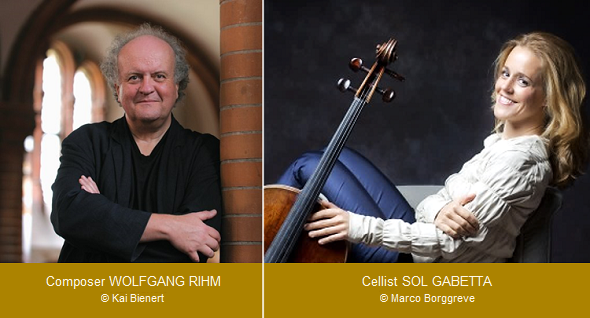 Premieres (Jan 17, 2019)
"Concerto en Sol"
The world premiere of Wolfgang Rihm's "Concerto en Sol" will be given by Sol Gabetta with Sylvain Cambreling conducting the Basel Chamber Orchestra on Jan 20 [Tickets/info

] in Genève, Switzerland with additional performances in Zürich (Jan 21), Bern (Jan 22) and Basel (Jan 23), followed by a French premiere in Grenoble (Jan 24) and a German premiere in Freiburg (Jan 26).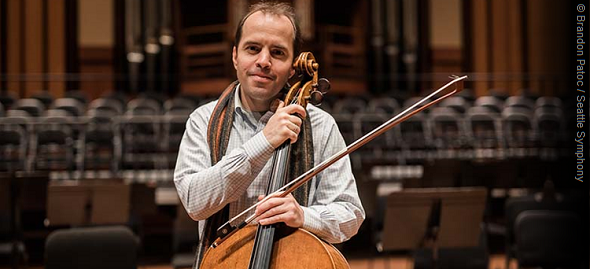 Premieres (Nov 7, 2019)
A new cello concerto
Commissioned by the Seattle Symphony, Angelique Poteat's cello concerto will be premiered on Nov 14 followed by additional performances on Nov 15 and 16 [Tickets/info

These events have passed] at Benaroya Hall in Seattle, WA with Efe Baltacıgil as soloist and James Feddeck conducting the Seattle Symphony.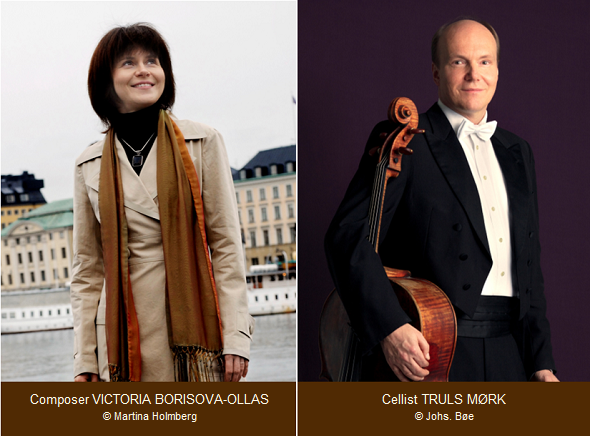 Premieres (Oct 31, 2019)
"Oh Giselle, remember me ..."
Truls Mørk will give the world premiere of Victoria Borisova‐Ollas' cello concerto "Oh Giselle, remember me ..." on Nov 15 [Tickets/info

This event has passed] in Stockholm, Sweden with Cristian Măcelaru conducting the Swedish Radio Symphony Orchestra.
Additional performances of the new concerto will be given by Mørk with the Bergen Philharmonic Orchestra (Jan 30-31 | Bergen, Norway), the Gothenburg Symphony Orchestra (Mar 19 & 20 | Gothenburg, Sweden), and the Royal Liverpool Philharmonic (Apr 30 | Liverpool, UK).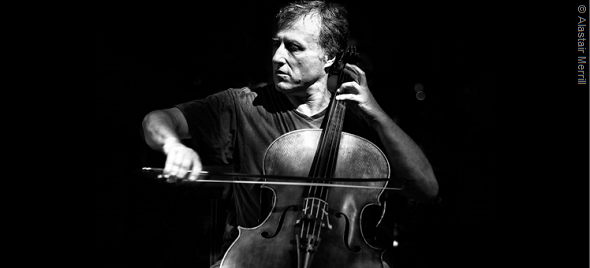 Premieres (Oct 1, 2019)
"Autumn Strings"
Tolibkhon Shakhidi's "Autumn Strings" will be premiered by cellist Raphael Wallfisch with Philip Mackenzie conducting the Mozart Symphony Orchestra on Oct 31 [Tickets/info

This event has passed] at Cadogan Hall in London, UK. In addition to the world premiere, Wallfisch will also perform Dvořák's cello concerto.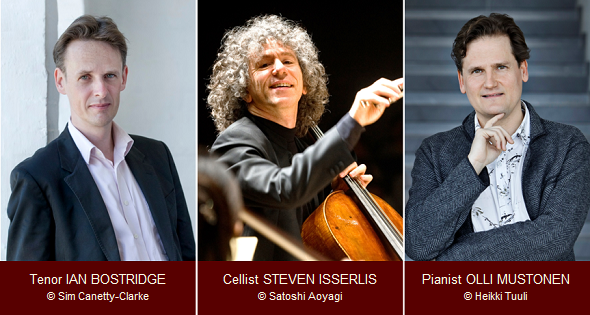 Premieres (Sep 3, 2019)
Mustonen's "Taivaanvalot"
Ian Bostridge, Steven Isserlis and Olli Mustonen will give the world premiere of the pianist‐composer's "Taivaanvalot"—a 30‐minute work for tenor, cello and piano—on Sep 26 [Tickets/info

This event has passed] in Amsterdam, the Netherlands.
An additional performance of the new work will be given by Bostridge, Isserlis and Mustonen in London, UK on Sep 30This event has passed.